When it comes to the safety of your home and family, you need to ensure there is no gap in your security coverage. This means monitoring your security system's performance on a regular basis and making sure that each piece of equipment is up and running. 
Take a look at the following tips to ensure optimal performance of your home security systems in Las Vegas. 

Check Your Alarm Control Panel 
The alarm control panel of your security system connects and syncs all the alarm and security equipment in your house. This is the central hub that gives you more control over the safety of your entire home so when a warning light or message light comes on it, it is best not to ignore it since it can affect your whole security system. 
The best alarm control panels come with a self-diagnostic mode, which you can run to find out what issues may exist. However, before you run the test, make sure you alert your monitoring service provider so they do not think you have a threat in your home should an alarm go off. 
Upgrade Your Video Doorbell
There's a new video doorbell in town! It's the most advanced state-of-the-art video doorbell we've found available anywhere in Las Vegas, and you can get it right here at Sting Alarm! Unlike other video doorbell's that came before it – this new "touchless" video doorbell fully harnesses A.I. empowered video analytics to send only the most actionable notifications available to customers. No more pesky notifications to inform you of tree branches blowing in the wind! Upgrade your video doorbell today! 

Check Your Cameras 
Cameras are an essential aspect of your home security system and if they are running blind, it could compromise the security of your home. Be sure to regularly check on your cameras to see if the motion sensors are clean and have a clear and unobstructed view. Sometimes, moving furniture, vehicles, or other objects around your home can inadvertently block the line of sight of your home's security cameras. You can also contact Sting Alarm to have your cameras upgraded to provide video verification functionality. "Video Verifications" allow for alarm monitoring stations to verify a triggered alarm at your home through use of your home security systems cameras. This is an essential value add to any Las Vegas home security system simply because throughout Clark County alarm verification is required before the local police department is allowed to respond. 
Keep Your Motion Sensors Functioning Optimally
Your motion sensors need to function optimally since they activate your home's cameras, lights, and other security devices. It is important that they are installed in the right place, typically somewhere high up and away from the activity of doors and windows. 
Maintain Your Smart Lights Frequently
Smart lights are one of the best home security investments and can take the security of your home to another level. To make sure your lights stay in top-notch shape, you need to maintain them. Whether the bulbs need replacement, the sensors need to be cleaned, or communication to the alarm control panel needs to be reset, make sure you check on your smart lights regularly to ensure they light up in the moments that matter most and secure peace of mind. 
When Should Your Home Security System Be Replaced?
If you have a well-maintained home security system, it can last you for up to 15 years and, sometimes, even longer. However, just because your security system is functional does not mean that it is working efficiently. On the contrary, old security systems have technology that may be obsolete. Even worse, this kind of hardware is difficult to repair since its components are often no longer available in the market.  
Additionally, outdated software often means your security system has limited capabilities. Upgrading an outdated security system can be almost impossible. That's why if you have a security system that is over 10 years old, or if you recently moved into a new home with a pre-installed security system, we advise you to get it assessed to ensure it has all the features you need to keep your family safe and that all the equipment is in proper working order. 
Upgrading Your Las Vegas Home Security System
One easy way to tell if your home security system is outdated is by asking yourself, does my home security system come with a mobile app? Modern home security devices like those provided by Alarm.com provide a mobile app that enables users to engage with their home security systems more than ever and from virtually anywhere in the World! If you believe that your home security system in Las Vegas is old & outdated, you need to start evaluating your options. Some people are quite happy with the security system they have and want to keep the same devices and features. If this is the case, schedule an inspection with Sting Alarm and seek advice on how to upgrade and add additional beneficial features to your alarm system and improve the safety of your home. Keep in mind there will come a time when you will inevitably need to replace your older security system.
 Adding Smart Home Devices to Your Security System
Smart home devices are the hottest trend in home security these days. These include door locks and garage controls, smart lights, thermostats, and voice control and they each add an extra layer of convenience & safety to your home. However, if you have an outdated security system, modern smart home devices may not be able to integrate with it. In addition, old security equipment does not always work with modern alarm control panels. Best to keep all of these things in mind when considering whether or not you can use your old system for a few more years.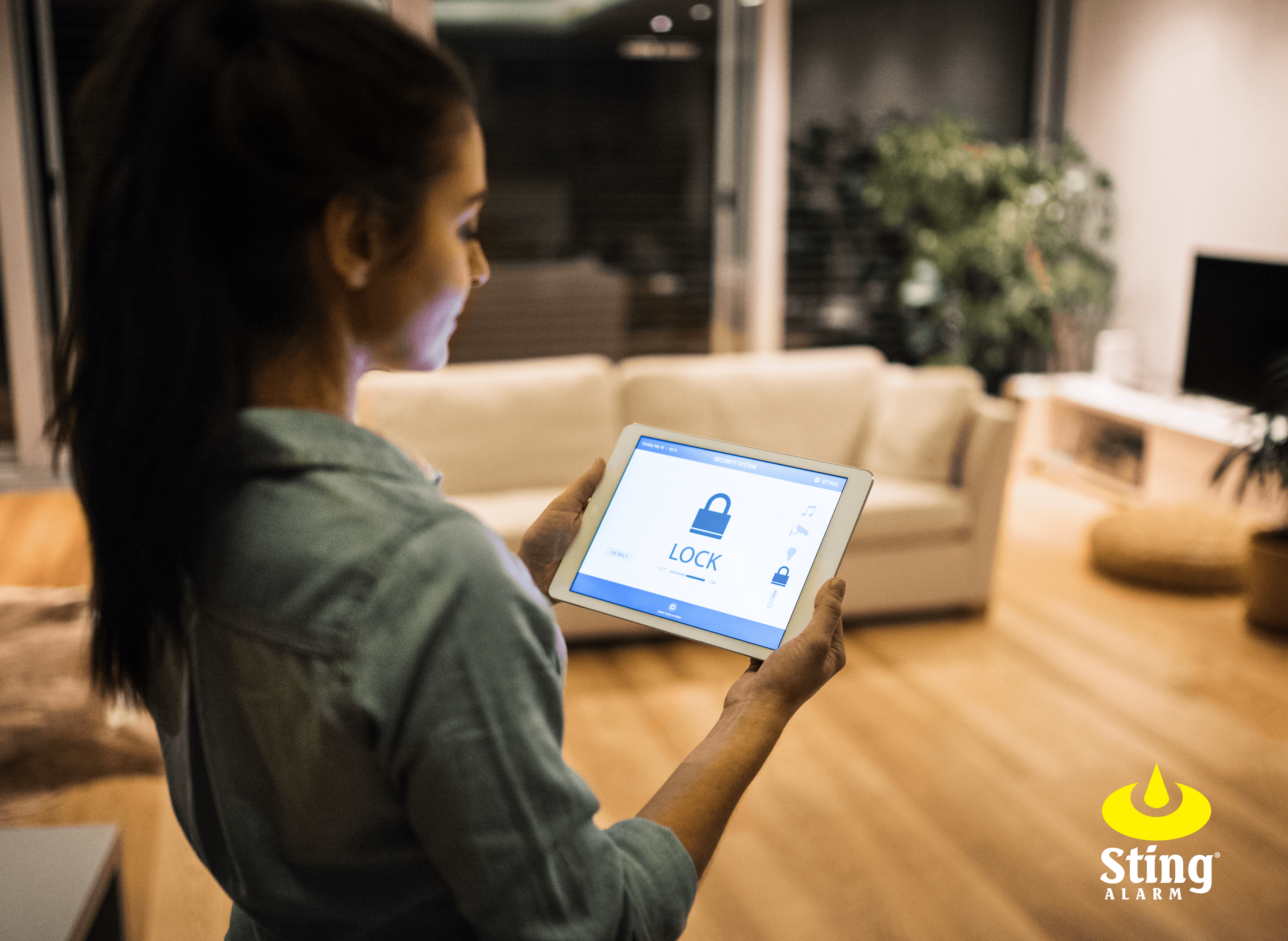 Deciding on the Type of Home Security Systems You Need in Las Vegas
A home security system is an honest investment. That is why you need to consider multiple factors when deciding to upgrade or replace your alarm systems. One of the most important things to consider is the age of the security system and how well it is functioning. Then, you should carefully assess the unique safety needs of your home. Are you concerned about porch thieves and think an outdoor camera with video analytics will help? Do you often forget to lock up your home or garage when leaving for work and will smart locks and garage controls add to your peace of mind? 
You need to answer these questions and more to determine whether or not you need smart home features added to your home security system. Then find out whether your old system is compatible with these devices and is able to support an upgrade. Sting Alarm can help you determine all of these things. Our team is happy to listen to your unique concerns and can help identify a personalized home security system that is perfect for you and your home. 
Modern security systems are designed to do more than scare away burglars. They now provide you more access, control, and visibility of your home through use of a mobile app. Additionally, they offer added ease and convenience when it comes to taking care of simple tasks that you often forget to do, such as turning off the porch lamp or locking your front door. 
Sting Alarm can help you get a clear picture of your home's security needs.
Find out if an upgrade is in order or whether or not it's necessary to replace your entire security system. Schedule a free consultation with us today by calling 702-737-8464 or click on the "Free Quote" button below.