Smart Home Energy
Save Energy with Smart Solutions
Energy & Security: Finally, Together
Manage your lights and temperature settings with automated schedules. Create easy rules to have an added layer of smart automation based on system activity.
Have your thermostat automatically set back when the system is armed away, or pause if smoke or carbon monoxide is detected to limit the circulation of fumes.
Optionally, add an additional layer of automation and use real-time local weather data to adjust your temperature settings to save energy and money if outdoor temperature spikes.
[youtube v="zovQNpHrZPo" lazyload="yes"]
Automatic Temperature Control & Energy Savings
Smart thermostats and energy control can reduce waste and bills. By installing a smart thermostat in your home you will enjoy the benefits of control and comfort, while making a positive impact on your homes energy efficiency. In addition to smart heating and cooling, our systems also integrate with select energy meters that feature technology that gives you the insight on the energy consumption of your home.
Set & Forget Rules
Define temperature settings for specific days and hours, or automatically when no one is home.
Geo Fencing
The AC / Heat turns on automatically as you approach or leave your home.
Automation
Set advanced automation rules based on the time of day.
Z-Wave
Integrate & connect with IoT thermostats like Google Nest.
Advanced Sensors
Humidity and motion sensors built in.
Emergency
Emergency automation protocols detect threats.
One of the coolest upgrades for any home are smart light bulbs and outlets. Whether you want easy control of different lights or to get a better grip on your home's energy, these smart home devices make it simple. Furthermore, smart lighting automation can be a huge upgrade to your home's security. As a result of our suite of security equipment and services, we can tie together everything from motion detectors and security cameras to your daily routines based on your location. With our smart plug-in outlets, you can basically control anything in your home, including appliances.
Pairing
Group lights and outlets for simple control of home's zones.
Auto On / Off
Dim, turn on or off when a door is opened or on a timer.
Z-Wave
Integrate with other existing Z-Wave devices around your home.
Security
Trigger lights when motion is detected, or on video camera events.
"Alexa, Turn Off the Lights, and Set The AC to 72."
Use Alexa or Google voice assistants? With the integration of our platform, you can activate lights, check on the doors, arm your security system, control your a/c and more, just say the word! With the ability to build automation scenes within your voice assistant as well as our smart home app platform, you can control just about anything without having to lift a finger.
We've turned security into serenity. Talk to us today about integrating energy management.
By connecting you with your home, we make living smart, simple and secure. Our home security systems keep you safe and in control. Upgrade to a Sting security alarm system and never worry about your home again.
Getting Started Is Easy!
As a leader in smart home and business security solutions, we bring the best technology and support together under your roof. We make the process simple and easy:
Give Us A Buzz
Fill out our short online form, or call us at (702) 737-8464 to talk with a security expert about your situation.
Get A Plan
We'll visit you at your home or business, make recommendations, provide a quote, and schedule installation.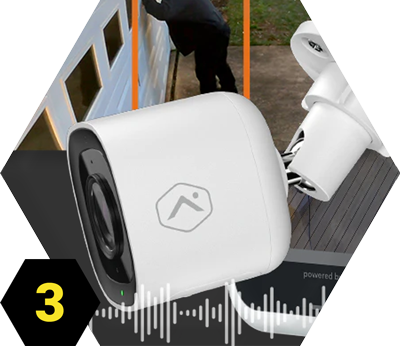 Get Protected
We'll train you to use your new security system, and you'll get 24/7 alarm monitoring & VIP customer support!