Smart Security Panels
AI Security for a Smarter, Safer Home
Protected. Secure. Modern.
Push-button home security systems are a thing of the past.  With our new encrypted touchscreen security panels and sensors, we make security smart, simple and safe. If you haven't upgraded your home security system in the past couple years, then you need a smarter system.  Old technology can be difficult to use, easy to hack and offers little convenience to your life, but Sting Alarm's smart security systems change that. With touchscreen keypads that integrate with our smart home apps, you are able to take control and keep an eye on your home from anywhere.
[youtube v="zovQNpHrZPo" lazyload="yes"]
Home security from Sting Alarm is technology that is smart, simple and looks beautiful in your home.
Connected All In One Security
By connecting you with your home, we make living smart, simple and secure.  Sting Alarm's touchscreen IQ panel is our smartest home security system yet. Our smart security control panel features a 7″ touchscreen for easy use, and integrates with all of our security sensors, smart home devices and home security cameras. View your cameras, control your smart home devices and arm your system, all on our encrypted smart home security system. Smarter, simpler and safer security with trusted tamper-proof technology.
Tamper Protection
Crash and smash detection and backup power built-in.
Photo Frame
Customize the digital photo frame to keep your home looking like home.
Bluetooth
Built-in Bluetooth, WiFi, Z-wave plus and 4G-LTE technology.
Crisp Audio
Built in HD audio that acts as a portable speaker.
Facial Recognition
Optional AI-powered facial recognition technology.

Camera View
View your security cameras directly on our security panel.
Encrypted Wireless Security Sensors
Our new smart home security systems feature the same encryption financial institutions are required to have. Encrypted sensors prevent hacking attempts where bad guys use devices or wireless networks to control your alarm without you knowing. Get smarter, future-proof security today with Sting Alarm.
Step into the future of home security with encrypted security sensors that can't be spoofed by the bad guys, even the smart ones!
24/7 Alarm Monitoring & Emergency Detection Devices
Sometimes the greatest threat to your safety goes beyond the bad guys. With emergency detection sensors and devices, Sting Alarm helps protect you from unpredictable emergencies such as fires, gas leaks or even floods that could cause permanent damage to your home.
Traditional smoke detectors and CO sensors will notify you of problems while you're at home, but if you're not, they do very little to help. With monitored safety equipment from Sting Alarm, we can dispatch emergency services before damage spreads. As a result, we help you reduce risks and notify you and your family before walking into a dangerous situation.
Water Leak Detection & Monitoring
The Smart Water Valve+Meter uses cutting-edge technology to monitor your water usage and detect leaks of any size, anywhere in your home. Whether it's a burst pipe or a dripping faucet, have peace of mind knowing that your home is protected against water damage. Set up rules to automatically shut off your main water supply when a leak is detected by the Smart Water Valve+Meter or a Sting Alarm water sensor (sold separately, not required). Get informed about your water consumption and take action to lower your water usage.
We're Here for You, with Lifetime Warranties & Support
When you sign up with Sting Alarm, you get access to unmatched service and support. With lifetime equipment and labor warranty options you never have to worry about service fees and unexpected bills.  We keep things working as expected, so the unexpected doesn't catch you off guard.
Home security shouldn't be a chore. That's why we've turned security into serenity.
By connecting you with your home, we make living smart, simple and secure.  Our home security systems keep you safe and in control.  Upgrade to a Sting security alarm system and never worry about your home again.
Getting Started Is Easy!
As a leader in smart home and business security solutions, we bring the best technology and support together under your roof. We make the process simple and easy:
Give Us A Buzz
Fill out our short online form, or call us at (702) 737-8464 to talk with a security expert about your situation.
Get A Plan
We'll visit you at your home or business, make recommendations, provide a quote, and schedule installation.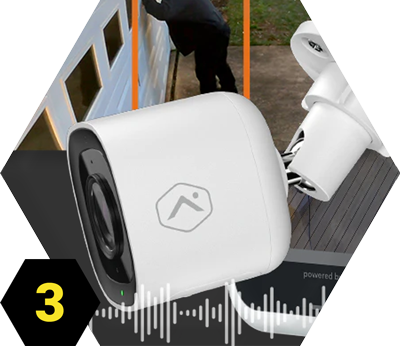 Get Protected
We'll train you to use your new security system, and you'll get 24/7 alarm monitoring & VIP customer support!