Smart Home Locks
Unlock Convenience
Smart Door Locks & Garage Door Control
Ever leave the house and forget if you locked the door? Closed the garage? Smart locks and garage control coupled with Sting Alarm's smart home app take care of the thinking for you. With voice control you can even lock up the house hands free. Our smart security system will even notify you if the garage is open when you leave the house, thanks to geo-location technology.
Ready to get a smarter home? Call today.
Smart Door Control
One in three burglaries happens through an unsecured entrance. Sting Alarm systems reminds you if you forgot to lock up, close your garage or arm your security system. Tap the alert once to secure your home remotely.

Smart Access
Let a visitor in and disarm your security system with a single command.
Instant Alerts
Get alerted when your family arrives home, when someone's late or when you forget to lock up.
Go Keyless
Eliminate security risks with digital lock codes, customized with time and date restrictions.
App Control of Interior & Exterior Locks
With an electronic smart lock installed by Sting Alarm you can truly take control of your home's entry points. Keyless entry with a 4 digit PIN means you'll never have to worry about losing keys or turning off the car to get back in the house. Locks can include a key slot for added ease and peace of mind. With your mobile app for iPhone or Android you can remotely lock and unlock your doors on-demand or on a schedule.
If you have professional services that come to your home, you can assign a PIN to the housekeeper, nanny or anyone in your contact list. Get an alert when any of these users access your lock and set permissions for each one.
Hey Google, Open My Garage
Smart locks from Sting Alarm easily integrate with Google and Alexa voice assistants to help manage garage doors, interior, and exterior doors.
We've Turned Security Into Serenity. Talk To Us Today About Upgrading To Smart Door Locks.
By connecting you with your home, we make living smart, simple and secure. Our home security systems keep you safe and in control. Upgrade to a Sting security alarm system and never worry about your home again.
Getting Started Is Easy!
As a leader in smart home and business security solutions, we bring the best technology and support together under your roof. We make the process simple and easy:
Give Us A Buzz
Fill out our short online form, or call us at (702) 737-8464 to talk with a security expert about your situation.
Get A Plan
We'll visit you at your home or business, make recommendations, provide a quote, and schedule installation.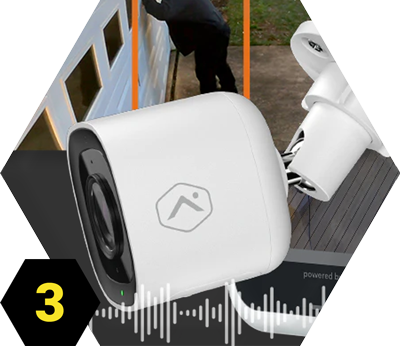 Get Protected
We'll train you to use your new security system, and you'll get 24/7 alarm monitoring & VIP customer support!