Security Home Cameras
Keep a Watchful Eye on Your Home
Security Indoors, Outdoors...Every Door. Even The Front Door.
Traditional home security cameras are great for watching what happened after the fact, but smart home security cameras are even better. Smart home security cameras provide you with real-time alerts of suspicious activity before disaster strikes. AI-powered analytics can super charge your homes security by giving you the power to customize your alerts and surveillance in the best way for your specific needs.  With options for any home, we can install a smart doorbell camera to keep an eye on the front door, indoor 180 degree cameras with 2-way audio to check on the family, or perimeter outdoor security cameras that keep you and your property safe 24/7.
[youtube v="xK3j55HtScs" lazyload="yes" loop="yes"]
In this video, local Las Vegas residents Clint Holmes & Kelly Clinton-Holmes review their smart home security system from Sting Alarm.
Security Cameras Install
"Their Cameras Are Right Out Of Any Current Movie."
"This company deserves 10 stars. Everyone from start to finish was exceptional. Their equipment is first rate. You can immediately view the cameras live either individually or all on one page, no lag time. I wished everyone and every company I interacted with operated with such integrity and pride of workmanship as Sting Alarm."
Debbie H.
Las Vegas Home Security Alarm Customer
Encrypted Wireless Security Sensors
Encrypted security cameras protect your home's privacy and keep the control in your hands. With end-to-end encryption enabled in every security camera and video clip, you don't have to worry about your home being exposed or disabled by hacking or vulnerable WiFi connections. You hold the keys to your home security cameras, whereas many of the popular options you might find available today lack the secure technology needed to ensure your safety and privacy, which is our #1 priority. Just another way Sting Alarm provides smarter, safer security solutions.
Smart A.I. Sees What Matters
Smart security cameras are more than meet the eye. Coupled with advanced AI technology, our cameras can identify what they are looking at. This means you can let your dog run free in the backyard while knowing you will be alerted if your cameras detect actual human activity. Additionally, with virtual tripwires and motion zones, you won't have to check on every passing car, but you will know when a vehicle or human is detected in the areas you specify.
Cloud Recording & Video Storage
Cloud recording smart clips keep your video footage safe from being tampered with and allow you to access recordings remotely. Additionally, we offer streaming video recorders that provide a local backup of footage and allow you to activate 24/7 recording options. Cloud clips record activity triggered events, alternatively, a streaming video recorder adds surveillance that doesn't skip a beat.
Never Lose Critical Footage Again.
Traditional security cameras generally record to a DVR that is in the same vicinity as the cameras themselves, and stores that footage for later review. Many burglars will attempt to destroy or remove these systems, therefore destroying the video evidence of the crime altogether.
Sting Alarm's smart cameras record events to the cloud, where they can only be accessed by you, the customer. In addition, motion and object detection allows your system to notify you in real-time when there is a threat detected.
Getting Started Is Easy!
As a leader in smart home and business security solutions, we bring the best technology and support together under your roof. We make the process simple and easy:
Give Us A Buzz
Fill out our short online form, or call us at (702) 737-8464 to talk with a security expert about your situation.
Get A Plan
We'll visit you at your home or business, make recommendations, provide a quote, and schedule installation.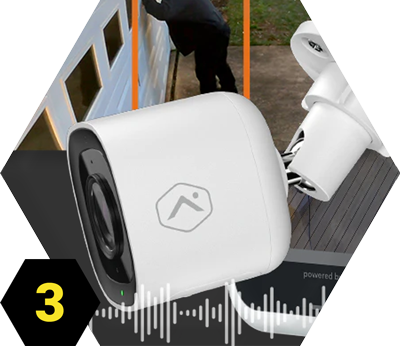 Get Protected
We'll train you to use your new security system, and you'll get 24/7 alarm monitoring & VIP customer support!