Protect Your Property
Sting Alarm carefully designs and installs fire alarms, fire prevention systems, and extinguishing systems specifically to maximize the fire safety of your establishment in Las Vegas. We will inspect your facility, determine vulnerabilities and hazards.
What is Fire Protection Services?
Fire protection services are a crucial measure for preventing, detecting, and suppressing fires in various settings, from residential to commercial and industrial properties. These systems, which include fire alarms, sprinklers, and extinguishers, are essential for keeping individuals and properties safe, as fires can cause extensive damage and put lives at risk.
Through regular inspections, testing, and maintenance, fire protection services ensure that systems are always in good working order and prepared to respond in the event of an emergency. By investing in fire protection services, individuals and organizations can minimize the risk of fires and ensure a rapid and effective response to any incidents that may occur.
Fire Protection for Businesses is Essential!
Fires can cause extensive damage to buildings, equipment, and inventory, resulting in significant financial losses.
Fires can put the lives of employees and customers at risk, making it crucial for businesses to have effective fire protection measures in place.
Local, state, and federal regulations often require businesses to have fire protection systems installed to ensure the safety of occupants and prevent fires from spreading.
Failure to comply with these regulations can result in fines and other legal consequences.
Investing in fire protection services can give business owners peace of mind and help them prepare for the worst-case scenario.
Effective fire protection measures can minimize the risk of fires and ensure that businesses are ready to respond quickly and effectively in the event of an emergency.
Overall, fire protection services are essential for ensuring the safety of people and property, complying with regulations, and minimizing the risk of financial losses.
Commercial Fire Alarms Las Vegas
Are you tired of worrying about the safety of your commercial property in Las Vegas? Sting Alarm has the solution with our top-of-the-line fire alarm systems. Our wide selection of alarms for all property sizes, from small businesses to large hotels, is unmatched in the industry.
We regularly outfit schools, hospitals, and industrial buildings with the latest fire alarm systems, ensuring that your property and occupants are always protected. Our systems are easy to use and maintain, and with our Mircom fire control units, you can have the peace of mind that comes with using the best in the business. The Mircom FX-400, for instance, offers a sleek and user-friendly design with a customizable full-color touchscreen display panel, making it the perfect solution for business owners who want to stay ahead of the game. Choose Sting Alarm for unbeatable fire protection services and put your mind at ease today.
Fire Alarm Design & Installation
Sting Alarm provides design and installation of your fire alarm system. No two properties are the same and because of this, no two fire alarm systems are the same. We will be able to either build or replace a new commercial fire alarm system that works for you or even upgrade your existing one. This will ensure that you have the perfect fire alarm system for your building, which will help to keep your property and the occupants safe. We do the same with the design and installation of commercial burglar alarms.
Fire Alarm Inspection & Maintenance Services
When you hire Sting Alarm for your fire alarm system needs, the company will first be able to complete a full inspection of your current fire alarm system. This will include completing an onsite assessment, reviewing maintenance and warranty records, and a variety of other tests that will determine whether your fire alarm system is in good condition or if it needs to be replaced, repaired, or brought or code.
Fire Alarm Monitoring Services in Las Vegas
Once you have had the commercial fire alarm system installed by Sting Alarm, the company will also be able to provide you with alarm monitoring services in Las Vegas. We operate a mesh network with a variety of redundant and identical facilities located across the country that are used to monitor current fire alarm systems. If an alarm is triggered and there is a reason for concern the company will be able to automatically notify the local fire department. This will help to ensure that your building is attended to quickly and that any concern is removed as quickly as possible by the fire department.
Need help with Fire Alarm Systems in Las Vegas or the nearby areas? Call us today!
Fire Alarm Systems
We custom design and install fire alarms and fire extinguishing systems for commercial buildings. We can update your old systems to make sure they offer the fire safety you need.
Fire Monitoring
We offer continuous remote monitoring using the latest technology. This ensures the fastest possible response time in the event of a fire emergency.
Fire Inspections
When you hire us, you can rest assured that every aspect of upgrading, designing, and installing your fire alarm, detection, and prevention systems will be taken care of and meet or exceed all Las Vegas fire code requirements.
Get Started Today!
As a leader in commercial security solutions in Las Vegas, Sting Alarm is trusted by businesses from casinos to large corporate campuses. We make the process simple and easy: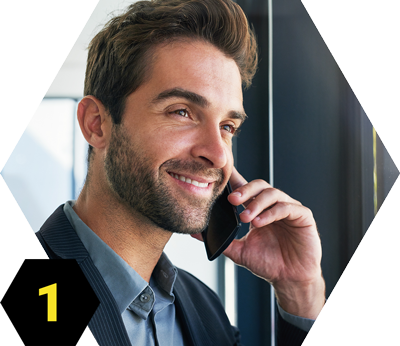 Give Us A Buzz
Fill out our short online form, or call us at (702) 737-8464 to talk with a security expert about your situation.
Get A Plan
We'll come to your business, make recommendations, provide a quote, and schedule installation.
Get Protected
We'll train you to use your new security system, and you'll get 24/7 alarm monitoring & VIP customer support.