Tired of leaving doors unlocked or replacing keys and locks? It's 20/20, you no longer have to. Here's what a Smart Lock can do for you.
We've all been there, we've left our doors unlocked, we've forgot our keys and at times plain locked ourselves out. Enough is enough, it's time to consider keyless Smart Locks.
You may be thinking, "Smart Locks sound cool… but what can they really do?" Well, I'm here to break it down for you.
Here are 4 ways Smart Locks can improve your quality of life.
1. Keyless Entry
Never worry about losing or replacing your keys again. That means less clutter in your pockets, more savings & no more house key pocket checks on your way out the door!
2. Remote Door Control
Stop worrying about whether or not you forgot to lock your doors! Don't leave your house accessible by hiding keys for family members and loved ones. Instead, why not control your doors while on the go easily from a smartphone?
3. Individual User Codes
Odds are if you own a single family home, you're not living alone. Use up to 30+ individual user codes. Not only will you save time & money on purchasing and replacing keys, you can better track who and when others are entering your home. Switching landscapers? No problem, easily delete and regenerate new user codes for anyone you would like to be able to access your home.
4. Smart Locks are Encrypted
If you've ever locked yourself out and used a medal sleeve or even a credit card to get through your door, you probably realized that it's not the most secure. Smart Locks feature a 128-bit encryption which makes your homes access points much more secure.
Interested in learning about how Smart Locks integrate with home security systems? Check out this article on Martha Stewart's website featuring Sting Alarm! Our Smart Locks integrate seamlessly with most alarm panels and can "unlock" all kinds of new use cases for your home automation needs.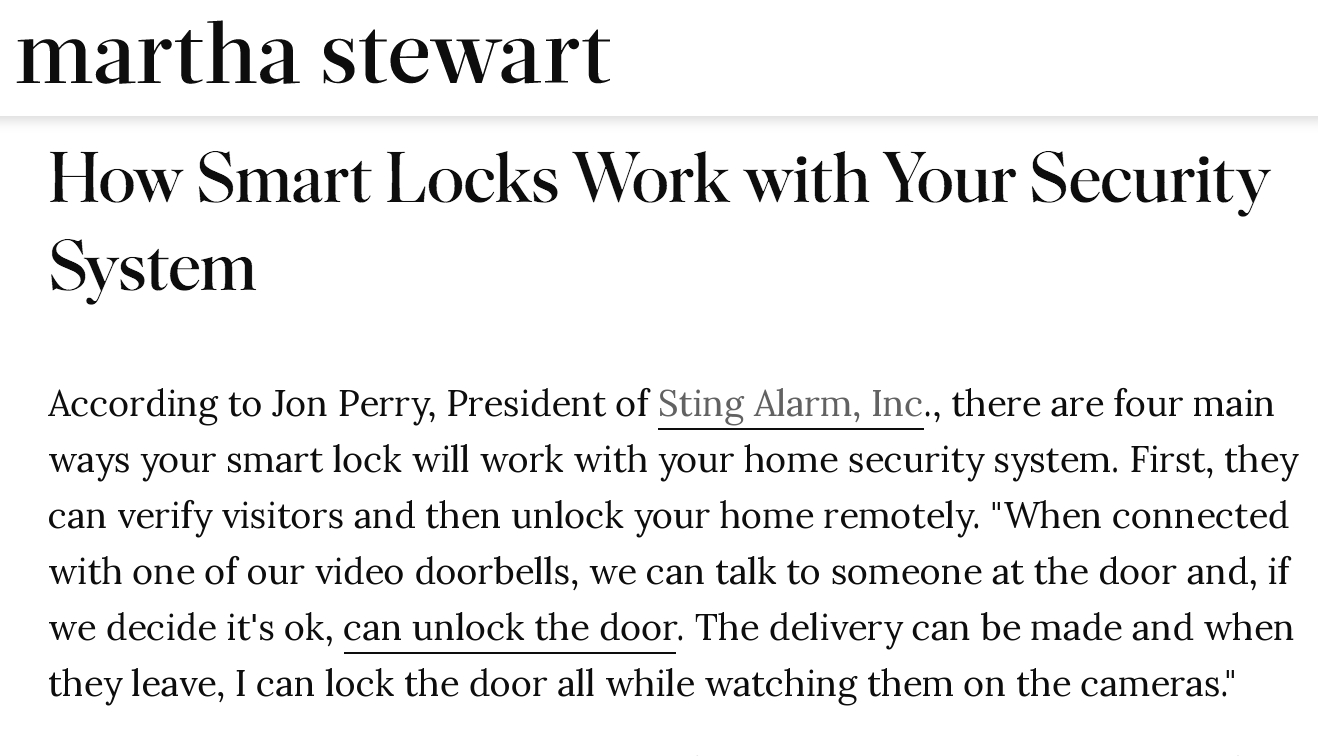 Sting Alarm is a Las Vegas home security company and has been locally owned and operated for over 17 years. We are the best Alarm company in Las Vegas based upon customer reviews and we're here for you! If you're ready start "Smart Living" start with Sting Alarm. Give us a call at 702-737-8464 and we'll have a home security expert available to answer questions for you.
Want a Smart Lock? Click on "Free Quote" fill out the form, & one of our Sting Alarm Las Vegas Security Professionals will reach out to you! 😊