Las Vegas is Nevada's most populated city. Like all populated cities, it has its share of crime, which is considerably higher than the national average. Crazy, right? To fix this problem, many people have installed home security systems. From smart home automation to surveillance security systems, here is why Las Vegas residents invested in home security systems to maximize their safety and security.

Illuminate Your Home With Smart Lights
Burglars, intruders, and other criminals rely on the cover of dark spaces to not be easily detected. To make sure your house remains bright, we recommend placing smart lights in potential outdoor dim spots. An illuminated home and driveway may discourage them from entering your premises. You can connect these lights with your security control panel and automatically switch the smart lights on through an app. 
Secure Your Doors With Smart Locks
Forgetting to lock your door when leaving your home is more common than you think. Criminals depend on our forgetfulness and most often use the front door to gain access to your home. Smart locks can help. You can check the status of your door locks using an app and virtually lock your doors if they are unarmed. You can also schedule your smart locks to arm a few seconds after the door is closed automatically. You can also install a sensor on your garage door to notify you if it doesn't shut.

Cover your Home With Security Cameras
Surveillance cameras are an effective deterrent when it comes to keeping intruders at bay. Why? Exterior cameras allow you to see the sections of your yard and house that cannot be seen easily from your windows, like a shed or a detached garage. Many cameras also come with motion sensor technology that can detect activity and notify the homeowners. Security cameras also come with infrared technology that enables them to see in the dark. Some modern cameras even have human recognition technology that lets them determine whether the object in their line of sight is a person or an animal. It can record videos of events and upload them to the cloud so that you and your security company can view the short clippings and verify if the threat is real. This type of technology ensures fewer false alarms and more prompt responses to home emergencies.

Protect Yourself With a Whole Home Security
Installing a powerful whole-home security system is the most effective way to gain peace of mind. It will enable you to control your smart lights, smart locks, thermostats, and home security cameras with a single touch of a button from an app or the system control panel. For an added level of protection, emergency detection devices like carbon monoxide sensors, fire alarms, and water leak detectors can provide you protection from internal threats. Even if any one of the devices connected to the home security system goes off, you and your 24/7 security team will be immediately notified via alerts and can respond quickly to the crisis.
Educate Your Family on How to Use the Home Security System
Untoward events can happen at your home anytime. Sting Alarm recommends you to educate your family on how to use the home security system and recognize if there is a threat to your home. Ensure everyone in your home knows how to quickly arm and disarm and never ignore alerts and notifications from the security system.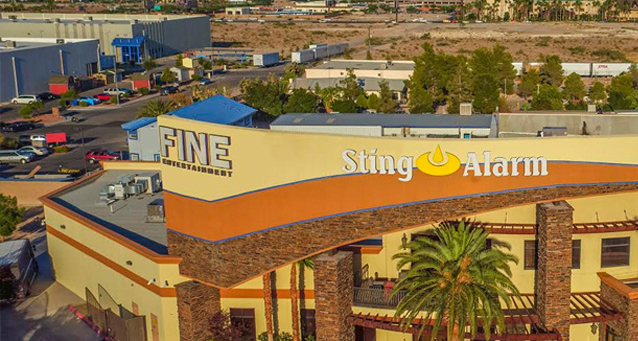 Take Your Home Security in Las Vegas to the Next Level with Sting Alarm
Call Sting Alarm at 702-737-8464 and ask our professionals to assess your home and determine its security needs. We can help you install a fully customized security system in your home that will keep your family safe and protected from any unfortunate events.